Tiger Moth Flights
Welcome to the fascinating world of the deHavilland Tiger Moth!
History
At the age of 27, Geoffrey de Havilland left a good Engineer position to build this classic bird. The design followed the classic layout of the Wright brothers: biplane wings, twin pusher propellers, a forward elevator, and a rear rudder. Flight testing took place on Salisbury Plain.
When the war came, de Havilland joined the Aircraft Manufacturing Co., just north of London, as a designer. Here he toiled for the duration of hostilities and his designs flew strongly (when the engines allowed) and were built in enormous numbers. Almost five thousand DH4's were built under licence in the United States.
By war's end, de Havilland had made his name with the public and was able to raise £20,000 to start his own company. By 1939, thousands of Tiger Moth aircraft of varying designs had been manufactured and exported to every part of the globe. Find out more at the deHavilland Moth Club.
Tiger Moth Flights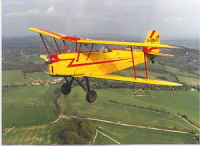 Experience the thrill of stting in the cockpit and flying a real vintage biplane from the days when cockpits were open and helmets were leather! Get airborne and take the controls of this classic biplane. And it'll be a grass take-off and landing using the two front wheels and the authentic tail-skid!
DeHavilland Tiger Moths give you a real feel for the old days. This is real vintage biplane flying from the days when cockpits were open and helmets were leather.

Make sure that you pack your leather helmet, goggles and leather Irvin jacket for your once in a lifetime trip!
Tiger Moth flights around the UK
Other vintage warbirds
Boeing Stearman and other Vintage biplane flights
Spitfire flights